Great things to do in Mayfair and Park Lane with a London Escort
The elite companions of Black Label London are so alluring, appealing and carefully chosen that we can promise you'll have a fantastic time with them no matter what you do. Take them out to dinner and they'll be an amusing, witty and flirtatious dining companion. Ask them to accompany you to an important networking event and we can promise the girl on your arm will make you the envy of every other man there. Choose to spend your time alone, in the comfort of your hotel room or the luxury apartment of the girl in question, and we have no doubt that you'll enjoy an experience so pleasurable it will have you returning to use our services time after time.
When you arrange to meet up with a Black Label model in an area like Mayfair, however, it would seem a shame not to spend at least some of your time together exploring some of what this exclusive and up-market corner of London has to offer. After all, there's absolutely nothing – a Michelin starred meal, a shopping spree or a night on the town – which isn't more fun if it's done in the company of a beautiful girl.
Mayfair is located in the West End of London and is synonymous with wealth, luxury and the high life. It's no surprise, then, that the kind of up-market models supplied by Black Label love nothing more than having someone take them out on the town to enjoy the high-end wining, dining, shopping and night life on offer here.
There's no rule saying you've got to treat your girl to a trinket or two, but the kind of beauty Black Label companions embody is the kind that tends to encourage generosity. If you do decide to treat her to a gift, the streets of Mayfair are packed with the kind of high end boutique outlets Black Label models love to frequent. Designers like Ozwald Boateng, Stella McCartney and Vivienne Westwood have chosen Mayfair as the home of their flagship outlets, while Asprey and Garrard stock the kind of twinkling accessories that go to prove, as somebody once said, that 'Diamonds are a girl's best friend.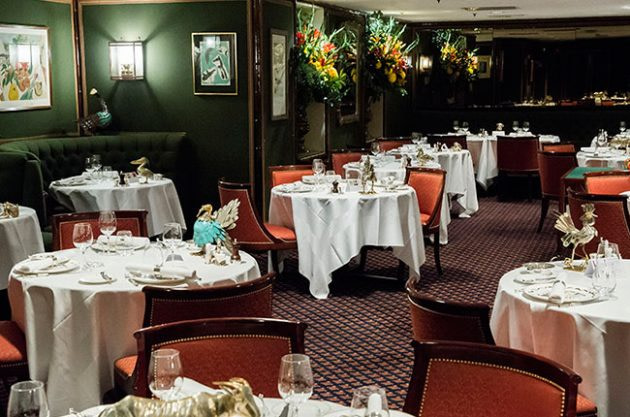 Of course, there's no better way of rounding off a day spent shopping with your girl than a night spent enjoying fine food and drink. Mayfair is packed with intimate, stylish and delicious restaurants, many of them run by the finest chefs in the world and boasting Michelin stars and other culinary accolades. Restaurants such as Le Gavroche, Helene Darroze at the Connaught and 34 combine opulent surroundings with some of the finest cooking anywhere in the world. There's a reason why you'll find the Chelsea A-listers here night after night, and it's the reason why your Black Label girl will have the time of her life there.
Why not end the night with an intimate drink or two in one of the exclusive bars and clubs in Mayfair? Claridge's Bar, Audley and Sketch are the kind of places where the cocktails flow freely and the beautiful people like to see and be seen. Pay a visit with your Black Label model and the most beautiful person in the place will be the girl sitting opposite you.
If you're looking for the best elite Escorts in Mayfair and Park Lane, you came to the right place… Black Label is one of the most exclusive escort agencies in London  and home to the elite London models.
Recommended Read
02 May 2017

The girls supplied by Black Label aren't just sexy, beautiful, intelligent and warm. They're all of that, of course, but they're also undeniably high-class. We appreciate the expectations that come with running a prestige escort agency and we choose our girls incredibly carefully to make sure they meet all of those expectations. This means that, […]

24 April 2017

When you spend time with a Black Label  elite escort there are certain things you can always take for granted. The model you've chosen will be stunning to look at, with a warm, approachable personality and a commitment to making sure you enjoy the time you spend together as much as you possibly can. She'll have […]

20 October 2016

Choosing the best London Escorts Agencies If you are a visitor or conducting business in the area, we provide the ultimate best of all London agencies. We comprehend that a lot of our clients are just too busy with their day to day schedules and therefore lack time to interact with a lot of new […]

19 October 2016

Outcall London Escorts – best in London outcall escorts at Black Label Agency An Improved Method of Deriving Pleasure on Business Trips: Hiring Outcall Escorts Staying in London Do you desire to gain more joy when you go to London for your business journey? You should then consider hiring escorts. However, you may wonder why […]

14 October 2016

Best London Escorts London is well known for its charm and beauty… just like the girls that live here. The world's capital offers the best women either for pleasure or for some cultural events. The British capital may offer some well-educated, sexy girls that a man can take to one of the many established London's […]

05 December 2015

Each person merits to have an enjoyable time, particularly when you think of how boring one becomes by just working all through without a break. Enjoyment is more improved when it is joint and nothing beats having fun with a woman who is sensual and sexy. An experience for one evening or through the night […]